The Colorado Sun, a major online newspaper based in Denver, published several columns over the weekend excoriating Representative Lauren Boebert over her recent behavior while attending a musical, with one calling her an "entitled princess."
Boebert, a Republican, has represented Colorado's 3rd District since 2021. One of the most staunchly MAGA-aligned members of Congress, her time in office has often been marked with controversy, including her involvement in holding up the election of Kevin McCarthy to the House speakership and her heckling of President Joe Biden during State of the Union addresses.
This stream of controversies seemingly reached its peak last Sunday when it was reported that Boebert had been escorted out of Denver's Buell Theatre during a performance of Beetlejuice: The Musical after allegedly engaging in disruptive and inappropriate behavior. Despite the congresswoman's initial denials of any wrongdoing, CCTV footage released later appeared to show her vaping, using flash photography, singing along to the show, and groping the man she was with.
Boebert has since apologized but the incident has kickstarted a renewed backlash against her, with critics taking particular aim at her alleged lewd behavior with her guest, calling her out as a hypocrite for also claiming to represent "family values." Among those critics were a handful of writers for The Colorado Sun, which published three op-eds dressing down her conduct, with one by Diane Carman calling her "an entitled princess."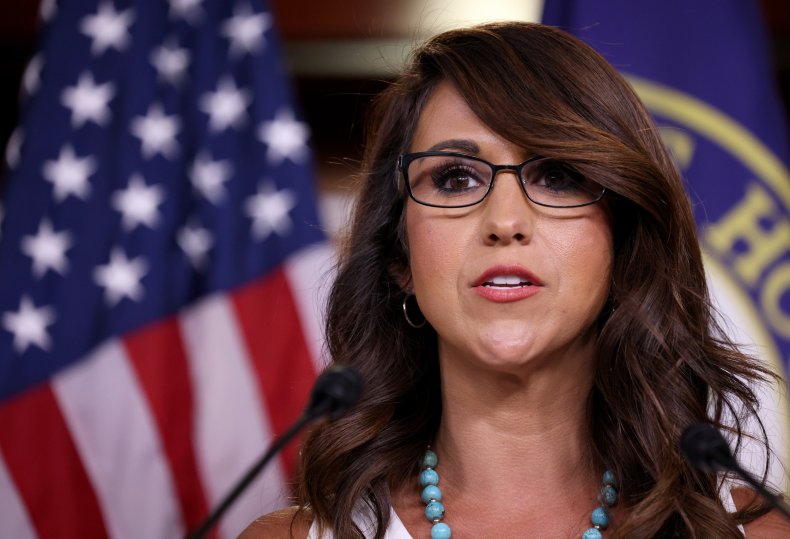 "Just another day in the carefree life of U.S. Rep. Lauren Boebert, whose M.O. is constant narcissistic chaos and whose developmental level appears to have been arrested in middle school," Carman wrote. "For the (less than) honorable representative of Colorado's 3rd Congressional District, it was another opportunity to flaunt rules and social norms and exhibit her contempt for anyone who might have come to the theater simply to enjoy the show."
"For our purposes, we can just call her night at the theater a series of crimes against ordinary human behavior," Mike Littwin wrote in his piece. "Or, as I like to think of it, a preview of ready-made 2024 anti-Boebert campaign videos, created in one quite large smoke-filled room. I'm sure there are a bunch of Hollywood-strike-sidelined film editors who could use the work. The hardest part would be in trying to keep an ad to a TV-friendly 30-second spot."
"Boebert's actions are no laughing matter. They are an insult to ordinary Coloradans everywhere," Mario Nicolais wrote in the third piece. "The way Boebert treated the people around her that night is indicative of an entitled brat who believes her job makes her better than everyone else. That is a disgusting trait in anyone, but absolutely repugnant in a public servant."
Newsweek reached out to Boebert's office via email for comment.
All three of the pieces touched on the possibility that Boebert's behavior could have a major impact in 2024, where she is considered one of the members of Congress most at risk of losing her bid for reelection. In last year's midterm elections, she nearly lost to Democrat Adam Frisch in a close race, with Boebert securing victory by a margin of less than 600 votes. Frisch is once again running to unseat her next year and is considered to have a strong chance of turning the district blue.