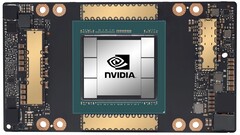 The NVIDIA Blackwell GPUs are the company's next-generation products coming to both HPC and gaming segments of the market. According to the previous leaks, the data center Blackwell GPUs could feature an MCM design. Kopite7kimi has seemingly confirmed the past reports by claiming that GB100 HPC chip is indeed based on multiple chiplets.
NVIDIA is expected to release the RTX 50 "Blackwell" GPUs in the first half of 2025. The RTX 50 Blackwell cards could feature up to a 512-bit wide memory bus and an MCM design. The latest rumor from serial leaker kopite7kimi alleges that NVIDIA is finally going to use a Multi-Chip Module (MCM) design in the HPC GB100 "after the dramas of the GA100 and GH100". As a refresher, before Team Green released the GH100 Hopper HPC GPU with a monolithic design, there were extensive reports regarding GH100 debuting with an MCM design.
Moving on, kopite7kimi also reports that even though Blackwell won't feature "significantly increased" GPC/TPC unit counts, the underlying structure of these units will see some considerable changes. RedGamingTech notes that a new bus and revised Streaming Multiprocessors (SMs) could be among the proposed architectural changes.
Before we proceed further, it is important to mention that the Blackwell GB100 and GB102 are reportedly NVIDIA's data center entries while the GB200 lineup is the one coming to the client side as gaming products. For instance, based on Team Green's current naming conventions, the flagship RTX 5090 could feature a GB202 GPU.
Moving on, AGF (@XpeaGPU) replies under kopite's Tweet about an MCM GB100 that the top-of-the-line Ada Next gaming GPU "also has a GB101 chiplet version (above or to replace GB102) that is under investigation". We suspect that by GB102 @XpeaGPU meant the GB202 client GPU as evident by kopite's reply down the thread. The leaker also confirmed that aside from the flagship, the lower client SKUs all use a monolithic design.
In other words, NVIDIA is potentially evaluating the next-gen flagship RTX 50 gaming GPU, possibly the RTX 5090, with an MCM GB101 chiplet design while high-end and mid-range boards down the stack could still use the traditional monolithic dies.
Finally, since we have no way of confirming the validity of these reports, take these rumors with a grain of salt.
After the dramas of GA100 and GH100, it seems that GB100 is finally going to use MCM.

— kopite7kimi (@kopite7kimi) September 18, 2023
Related Articles

Fawad Murtaza – Tech Writer – 562 articles published on Notebookcheck since 2021
I am Fawad, a fellow tech nerd. As a tech junkie, my relationship with technology goes back to my childhood years. Getting my first Intel Pentium 4 PC was the start of journey that would eventually bring me to Notebookcheck. Finally, I have been writing for tech media since 2018. From small no-name projects to industry leaders, I have worked with a number of tech publications.
Fawad Murtaza, 2023-09-19 (Update: 2023-09-19)