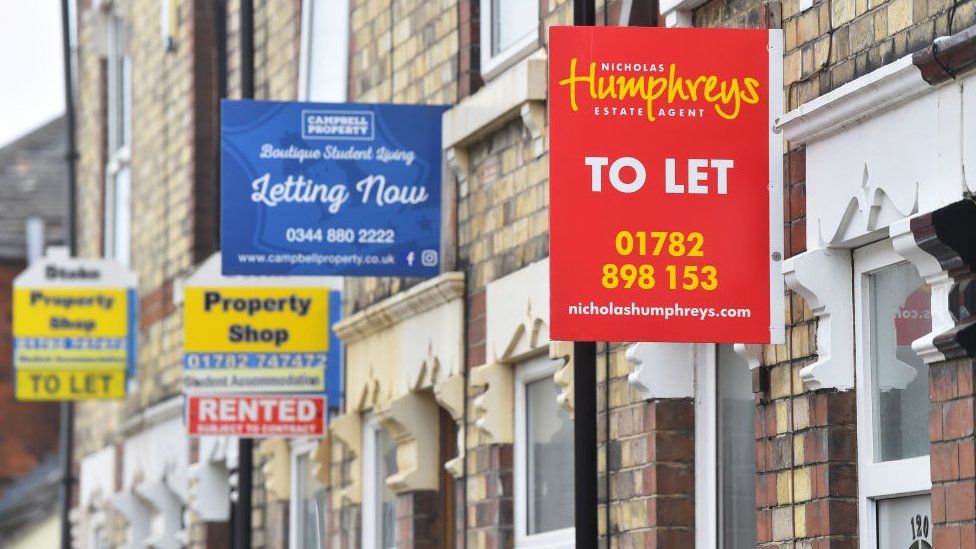 By Kevin Peachey
Cost of living correspondent
The cost of renting a home rose by 12% in the year to August, according to estate agency Hamptons – the highest since it started its survey in 2014.
A typical monthly rent of a newly-let property is now £1,304, it said.
The rise in the past 12 months was more than the increase seen over the four years to 2019, Hamptons said.
Pressure on landlords from high mortgage rates and rising demand from tenants has been pushing up rental costs.
With fewer properties available to rent in many areas, the mismatch between supply and demand has made renting more expensive.
Last month, official figures, covering existing as well as new lettings, showed the rising cost of renting was at its highest level since comparable records began.
Legislation going through Parliament will ban tenants from being evicted without justification – a move which landlords claim is leading some to leave the sector – but campaigners have said progress made by MPs on the new law is slow.
Meanwhile stiff competition among tenants for a smaller pool of rental property is leading to rising rents.
The Hamptons research is based on 90,000 homes let and managed by the wider Countrywide Group of estate and lettings agents each year, adjusting for their location and type, and covers achieved rather than advertised rents.
It said the average monthly rent in Britain had crossed the £1,300 mark for the first-time in August, less than a year after passing the £1,200 mark.
"Each passing month has ushered in a new rental market record," said Aneisha Beveridge, head of research at Hamptons. "Rents have risen more in the last 12 months than they did between 2015 and 2019.
"While the current pace of rental growth is unsustainable long term, many mortgaged landlords are being squeezed just as tightly as tenants."
How can you get to the front of the renting queue
Agents say there are some simple ways to make it easier to secure a rental property, including:
Start searching well before a tenancy ends and sign up with multiple agents
Have payslips, a job reference, and a reference from a previous landlord to hand
Build up a relationship with agents in the area, but be prepared to widen your search
Be sure of your budget and calculate how much you can offer upfront
Be aware that some agents offer sneak peeks of properties on social media before listing them
There are more tips here and help on your renting rights here.
Related Topics