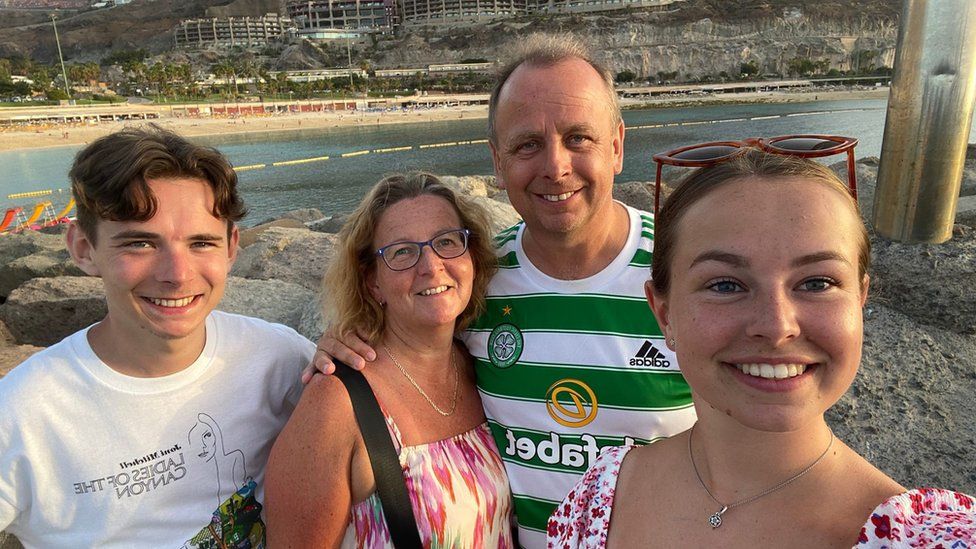 By Ez Roberts
Business reporter, BBC News
A family is locked in dispute with Ryanair after being charged £165 to check in at the airport and being told by the airline that they had "unchecked themselves".
Damian Lloyd had checked in his family a month in advance, and brought the printed boarding passes to the airport.
But the barcodes would not scan so the family had to pay to check in again.
Mr Lloyd tried to reclaim the money but Ryanair said they had unchecked before flying, so the fee was justified.
After several weeks of email exchanges, the airline has now referred Mr Lloyd to a dispute resolution service.
'Total shock'
Health and safety manager Mr Lloyd had booked a 10-day family holiday to Gran Canaria in July.
The 50-year-old from Neath is a regular flyer and says he has never had a problem with Ryanair's extra fees before – he had happily paid to reserve seats – so was "in total shock" when his, his wife's and his daughter's boarding passes did not scan.
A Ryanair employee at the check-in desk was equally confused.
"He looked on the computer, and our names and seat numbers came up. But for some reason [the boarding passes] weren't scanning. He didn't know why," Mr Lloyd told the BBC.
As it was an early morning flight, the employee could not phone Ryanair's customer service to investigate the problem as it was not yet open.
Passengers are not allowed to board a Ryanair plane unless their boarding passes are scanned, so the family was given a choice – either wait for customer service to open and miss their flights, or pay for new passes.
As the next flights were three days away, Mr Lloyd decided to pay up.
Mr Lloyd said that the check-in employee told him it was a computer glitch. "He said we could claim the money back."
But when he requested a refund, Ryanair rejected the claim, saying it wasn't a fault with its system.
Customer service first told Mr Lloyd he had not verified his identity, but later agreed this was "inaccurate". They then told him he had unchecked the day before his flight.
"Ryanair came up with every excuse under the sun," he said.
A spokesperson for Ryanair told the BBC: "[The family] unchecked themselves on the website on 22 July and ignored the pop-up that warned them they would have to check in again and generate new boarding passes.
"As they didn't have valid boarding passes, they were correctly charged the airport check-in fee."
Mr Lloyd denies this, saying: "I can't remember going on the website after I checked in.
"They earn hundreds of millions a year. If I had made the mistake I'd put my hands in the air and pay but I did have the right passes."
Ryanair has referred Mr Lloyd to AviationADR, an independent airline dispute resolution scheme, as their dispute cannot be resolved.
The issue of airline fees has come under the spotlight after an elderly couple were charged £110 by Ryanair to print their tickets at the airport.
The couple told the BBC they had to pay airport check-in fees after mistakenly downloading their return tickets instead of their outgoing ones.
Related Topics