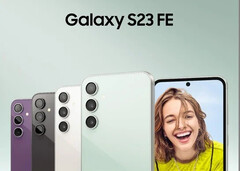 MSPowerUser has offered a first look at Samsung's launch colours for the Galaxy S23 FE. Allegedly due at the start of autumn, the Galaxy S23 FE will be a modest upgrade over the Galaxy S21 FE, with Samsung skipping the Galaxy S22 FE entirely.
MSPowerUser has shared a promotional image of the Galaxy S23 FE, Samsung's first Fan Edition-branded smartphone since the Galaxy S21 FE. Currently, the company has not commented on the existence of a Galaxy S21 FE successor. However, the number of leaks that have emerged in the last few weeks imply that Samsung is close to making the Galaxy S23 FE official.
To recap, only a few days have passed since the TENAA published images of the forthcoming handset, as well as various hands-on images. Subsequently, The Tech Outlook leaked several official Galaxy S23 FE images in which the device can be seen from almost all sides. Now, MSPowerUser has shared what appears to be a promotional poster, given the similarities with Samsung's other recent smartphone adverts.
Based on the image below, the Galaxy S23 FE looks like a cross between its predecessor from the front and the rest of the Galaxy S23 series from the back. As we have discussed previously, the new Fan Edition model will raid Samsung's parts bin, with a 50 MP primary camera and the Exynos 2200 or Snapdragon 8 Gen 1, depending on where you live. Seemingly, Samsung plans to sell the Galaxy S23 FE in four launch colours. According to MSPowerUser, Samsung will market these as black graphite, lavender, olive, pearl white and purple, matching those in which the Galaxy S21 FE is already available. For now, Samsung is expected to offer up the Galaxy S23 FE in early autumn, perhaps even later this month.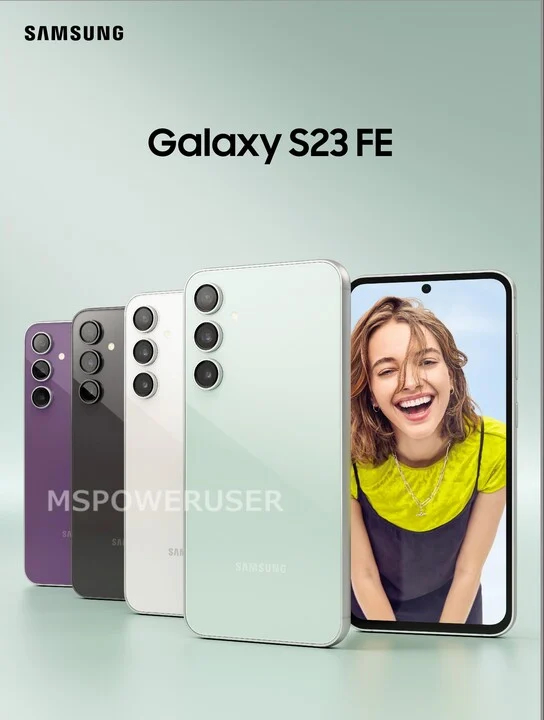 Related Articles

Alex Alderson – Senior Tech Writer – 8594 articles published on Notebookcheck since 2018
Prior to writing and translating for Notebookcheck, I worked for various companies including Apple and Neowin. I have a BA in International History and Politics from the University of Leeds, which I have since converted to a Law Degree. Happy to chat on Twitter or Notebookchat.
Alex Alderson, 2023-09-17 (Update: 2023-09-17)