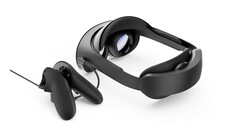 Apple is tipped to try and make the world accept its Reality (headset) during WWDC 2023. The first-gen VR/AR platform is now backed to come with its own version of Safari, FaceTime, Fitness, Siri and more on its allegedly impending launch. However, it seems the Cupertino giant has gone and developed something for it that might end up being a major sticking point to its adoption.
Mark Gurman's concerns that Apple might be risking its new Reality headset's chances of success by rushing it into a WWDC 2023 launch with a poorly fleshed-out xrOS ecosystem (not to mention hit-making use-cases) seem to be largely allayed in the typically knowledgeable Bloomberg contributor's latest report on the subject.
Not only is the headset's all-new, custom-built OS apparently now ready to go, it may have a port of pretty much every app known to iPadOS on its launch. Accordingly, a potential Apple Reality buyer may be confident of having access to the mixed reality (MR) version of a long list of core tablet apps, from Maps to Weather, and also every media app (such as Photos), in between.
On that note, xrOS is also now tipped to unlock possibilities such as Apple TV, Fitness, Arcade and even FaceTime in VR on its debut. There may also be an entirely new service, "Wellness", for pursuits such as meditation, to go with them.
However, those who might now hope to make their whole Apple ecosystem MR soon may encounter a potentially significant drawback right from its first generation. The Reality headset is, like the Quest Pro or Vive XR Elite, believed to support USB type-C – for everything except charging. Its (non-detachable) battery pack is said to need a whole new first-party cable with a proprietary connector instead.
Its new "round" (and, therefore, probably not Lightning) port is reportedly magnetic, and may, thus, have some of the advantages of old-school MagSafe. Then again, it also apparently has a locking mechanism to prevent spontaneous disconnection during charging.
Nevertheless, this new rumor may prove bad news for those hoping that their new iPhone and Reality headset could share a cable in the future.
Buy the Meta Quest-style charging dock the Apple Reality apparently won't be able to use on Amazon.
Related Articles

Deirdre O Donnell – Senior Tech Writer – 6234 articles published on Notebookcheck since 2018
I became a professional writer and editor shortly after graduation. My degrees are in biomedical sciences; however, they led to some experience in the biotech area, which convinced me of its potential to revolutionize our health, environment and lives in general. This developed into an all-consuming interest in more aspects of tech over time: I can never write enough on the latest electronics, gadgets and innovations. My other interests include imaging, astronomy, and streaming all the things. Oh, and coffee.
Deirdre O'Donnell, 2023-04-23 (Update: 2023-04-23)