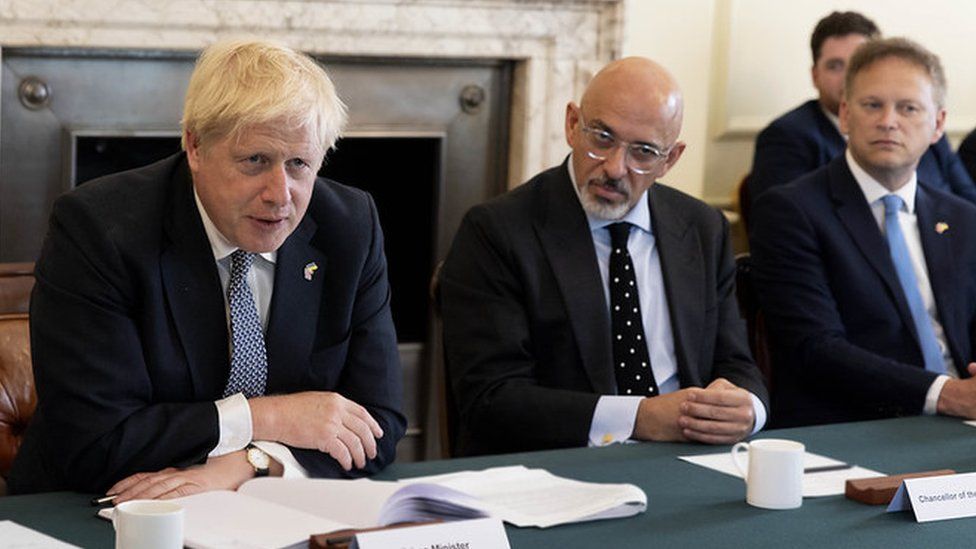 Friday's newspapers are dominated by one story – Boris Johnson's resignation.
The Guardian says "it's 'almost' over" – highlighting the row about when the prime minister will actually depart.
The Daily Mirror accuses Boris Johnson of "clinging on for one last party" – with a source suggesting he has plans at the end of this month for a "lavish wedding bash" at Chequers. Downing Street insists he is motivated only "by duty."
The Times reports that Mr Johnson's plans to reverse corporation tax rises and bring forward a one penny cut in income tax to next year have been shelved.
Some papers review the Tory leader's resignation speech, which the Financial Times calls "grudging and unapologetic", the Guardian calls "tinged with bitterness," and the i's editor says his "anger bubbled beneath his bonhomie."
But the Daily Express suggests it was "heartfelt" – and along with the Sun offers the prime minister thanks for Brexit. In its editorial the Sun pays tribute, describing him as a "flawed but giant figure in the nation's history."
The Times examines the start of what it calls the "bitter succession contest," with allies of potential leadership candidates already attacking their possible rivals.
The Daily Mail claims the Tories have "lost their marbles" – saying they haven't a clue who'll replace Mr Johnson. The paper warns that the party may live to regret his exit.
The i suggests that what it calls the "crowded field" is likely to be cut to the final two within 13 days. The Telegraph insists in its editorial that speed is of the essence.
Looking at the reaction of news websites around the world, Le Monde suggests that what it calls Mr Johnson's "humiliating downfall" has left the UK with a "damaged international reputation."
The South China Post asks whether "hubris syndrome" was why it took Boris Johnson so long to resign and warns that it may prove very costly to the Conservative Party for failing to cut down their leader sooner.
The Moscow Times quotes the Kremlin spokesman, Dmitry Peskov, who says they'd like more professional people who can make decisions through dialogue to come to power in the UK, but aren't hopeful.
The Frankfurter Allgemeine says by resigning Mr Johnson avoided becoming the "British Donald Trump."
The Washington Post concurs suggesting it's "testament to the power of elected politicians to hold their leaders accountable," in a way, it says, the Republicans have not done with their former President.
There's praise in the Sydney Morning Herald from an Australian former High Commissioner to the UK, George Brandis, who describes Boris Johnson as "hugely consequential" having changed the course of British history in a way few have managed.