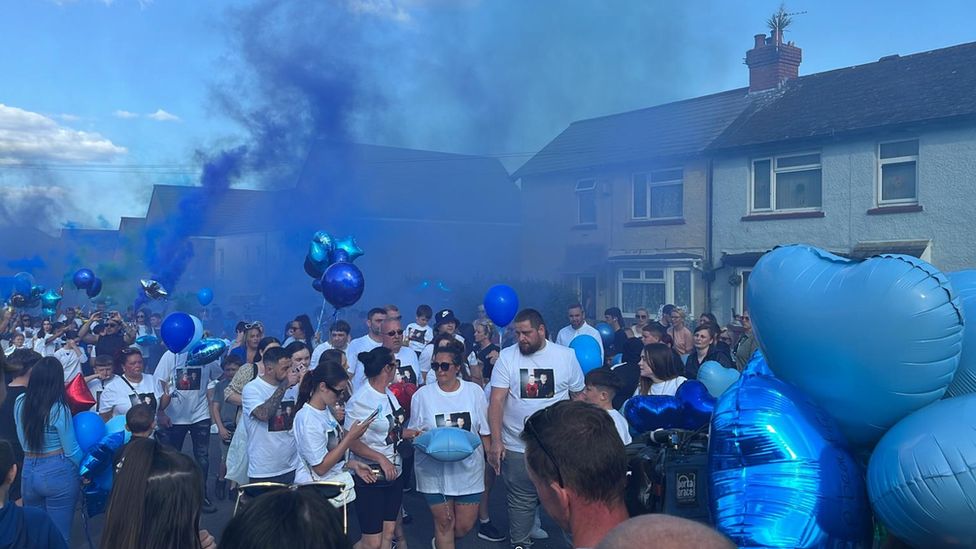 By James McCarthy & Stephen Fairclough
BBC News
A vigil is taking place in memory of two teenagers who were killed in an e-bike crash in Cardiff.
The deaths of Kyrees Sullivan, 16, and Harvey Evans, 15, sparked a riot in the city's Ely suburb but the circumstances behind the accident remain unclear.
At least 800 people had gathered on Snowden Road – the scene of the crash – by early evening on Friday.
Blue balloons were brought as requested by the family.
The family asked for police not to be present.
Blue and orange flares were set off and hundreds of balloons were released into the sky.
A minute's silence was followed by applause and fireworks were also let off.
A mostly young crowd of people, many wearing blue and white clothing, began to arrive at 17:45 BST on Friday.
Ahead of the vigil one friend of the family asked people attending it to contain their anger, following violent scenes in the area after the crash on Monday.
Earlier in the day, First Minister Mark Drakeford held a meeting with community representatives in Ely at lunchtime on Friday.
The Welsh government said the meeting would discuss support for the community.
Mr Drakeford, alongside Social Justice Minister Jane Hutt, chaired the meeting between politicians, agencies, and community groups.
Fifteen officers were injured during the unrest which has led to nine arrests.
It saw up to 150 people gather. Rioters threw fireworks at police and set cars alight.
The aftermath was described as a "warzone" by a BBC reporter at the scene.
The Independent Office for Police Conduct (IOPC) said it had already carried out "extensive" house-to-house inquiries in Ely.
The IOPC also said its investigation would be impartial and independent of the South Wales Police force.
Reports on social media suggested the police were chasing the pair, who were riding together on an electric bike shortly before the collision.
CCTV footage later released showed a police van following the boys minutes before they died on Snowden Road at 18:00 BST.
On Wednesday, South Wales Police confirmed its officers had been following the teenagers prior to their deaths, but refused to answer further questions about it, citing an ongoing IOPC investigation.
CCTV is being gathered and the investigating officers are reviewing initial accounts from the police officers involved.
Related Topics