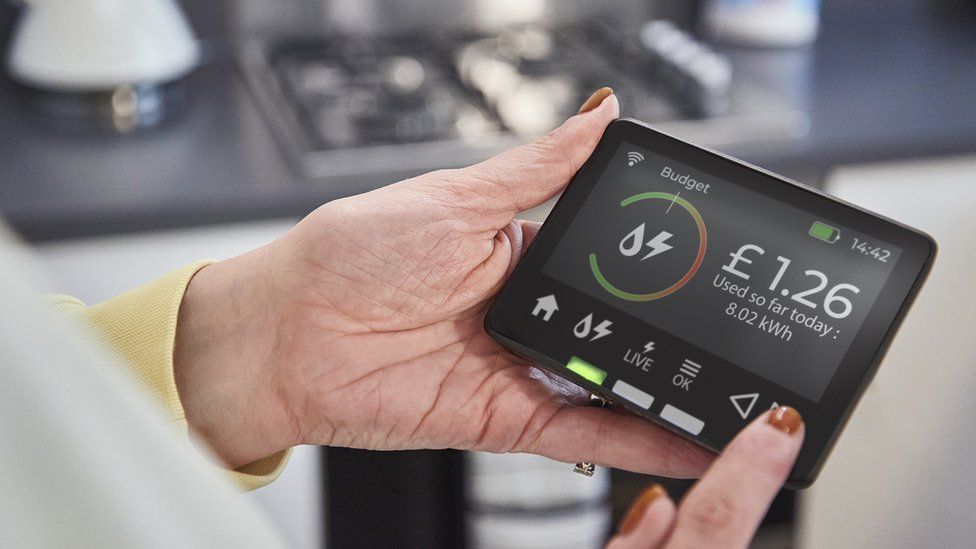 By Nick Edser
Business reporter
Households could be asked to pay an extra £17 a year on their energy bills to help prevent suppliers going bust, according to the industry watchdog.
Ofgem said it was considering the measure to protect the market and consumers after figures showed energy debts reached £2.6bn in the summer.
The rise in debt was due to both the increase in wholesale energy prices and wider cost of living pressures.
Any rise in bills would not take place until April next year, Ofgem said.
"We know that households across the country are struggling with wider cost of living challenges, including energy, so any decision to add costs to the price cap is not one we take lightly," said Tim Jarvis, director general for markets at Ofgem.
"However, the scale of unrecoverable debt and the potential risk of suppliers leaving the market or going bust, which passes on even greater costs to households, means we must look at all the regulatory options available to us."
Ofgem said that if a one-off rise to bills did not take place, there was a risk that consumers could face even higher costs and poorer standards of service if suppliers go out of business.
The regulator said that when energy prices started to rise in 2021 about 30 suppliers went out of business, and this led to every energy customer being charged an extra £82 to cover the costs of making sure that households were not cut off.
Ofgem said it would consult with the energy industry, consumer groups and the public over the options, including how any rise in bills might be spread out.
"We must consider the fairest way to maintain a stable energy market and we will do this in consultation with all our partners to ensure we are protecting the most vulnerable households," said Mr Jarvis.
Under Ofgem's latest price cap, which affects 29 million households in England, Wales and Scotland, the annual energy bill for a typical household is £1,923.
While that is £577 lower than last winter, average annual gas and electricity bills remain high by historical standards. In winter 2021, an energy bill for a typical household was £1,277.
In addition, government support last winter of £400 for each household is not being repeated this year, and analysts have forecasted that bills will rise again in January.
Citizens Advice said it was worrying that more households were falling behind with their energy bills during the warmer months.
"High energy prices mean millions of people remain at risk of falling behind in the coming months," said Dame Clare Moriarty, chief executive of Citizens Advice.
"An increase in the price cap to pay for higher debts will make people's bills even more unaffordable. Any change must be in the best interest of all consumers.
"For now, the government must provide additional bill support this winter for those at most risk."
Here are some energy saving ideas from environmental scientist Angela Terry, who set up One Home, a social enterprise that shares green, money-saving tips:
Get a water-efficient shower head free of charge from your water company and use showers rather than baths
Consider loft insulation, which she says costs around £680 for a typical semi-detached home and could save £285 a year on gas bills
Hang out washing instead of using a tumble dryer, and walk instead of drive when possible
Use windy days to feel where draughts are in the house. Wetting the back of your hand helps to locate them, then use insulation or draught-proofing tape
Where available, press the smaller button to use less water to flush the toilet
Related Topics