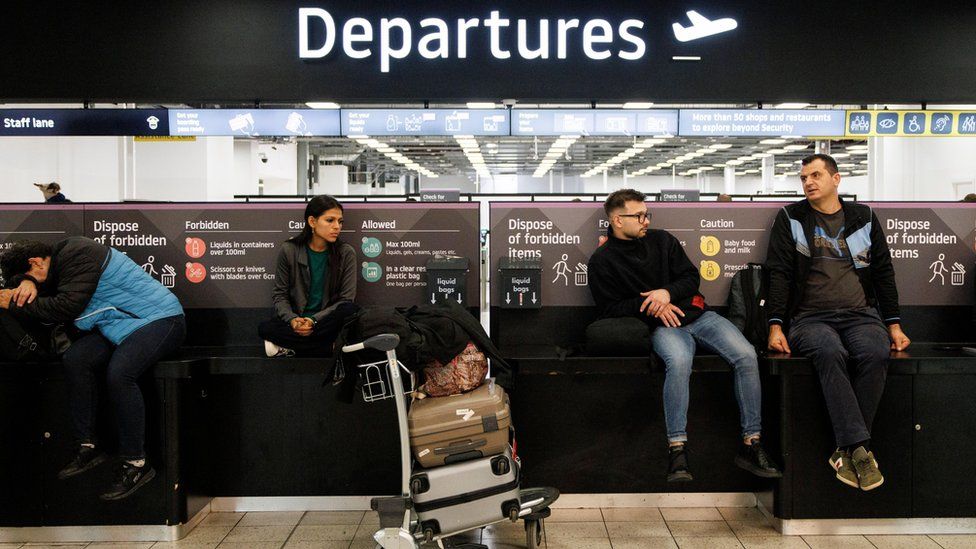 By Alex Pope & Tony Fisher
BBC News, Bedfordshire
Passenger flights have started to get back to normal at Luton Airport after a huge fire ripped through a terminal car park on Tuesday evening.
The blaze caused the building to suffer a "significant structural collapse" but no serious injuries were reported.
Commercial flights resumed just after 15:00 BST on Wednesday.
Travellers told the BBC they were asked to arrive three hours before their flight and one car park had reopened close to the terminal.
An investigation into the cause of the fire has begun.
Bedfordshire Fire and Rescue Service said it thought the fire started in a "diesel-powered" car and then spread through the building.
The airport said passengers arriving by car could now use the long and mid-stay car parks, while a temporary drop-off was established at the mid-stay car park.
However, the Dart shuttle remains closed, with replacement buses running.
Chris Penhall, whose car is parked on level three of the car park damaged by the fire, was due to fly into Luton on Wednesday but her flight was diverted to Gatwick.
She said she had received a few emails from Luton Airport.
The airport could not give any details about the state of individual cars but she was told she should alert her insurers "as soon as possible to the situation".
"In my head I'm very sad to say I don't think I'll see my car again," Ms Penhall said.
Patricia Marianska, from Slough, Berkshire, drove to the airport to fly to Warsaw and said she was stuck in traffic for about 15 minutes.
She said she had to walk for about five minutes from the mid-stay car park, but "apart from that there was no inconvenience".
"I did get an email to get here three hours before my flight so we made sure we left earlier," she said.
Lucy Smith and Elizabeth Webster, from Bedford, were due to fly at about 09:00 on Wednesday to Amsterdam.
Ms Smith said their flights were rescheduled and changed three times, so they waited at the airport for more than 12 hours.
On the fourth attempt, their flight took off at 20:56, after being delayed by 45 minutes.
Speaking to the BBC from the Netherlands, she said: "It was a very stressful day, we were very tired, but we're happy we finally got here."
Emily Cozens, from Nottingham, stayed in a Luton hotel overnight to catch her early morning flight to Lithuania, and was able to park at the airport.
She said: "There was a bit of traffic, and straight into terminal one."
Ms Cozens said although it was not clear at first where she should go, there were lots of people on hand to help.
London Luton is the UK's fifth largest airport after Heathrow, Gatwick, Manchester and Stansted, carrying more than 13 million passengers in 2022.
Follow East of England news on Facebook, Instagram and X. Got a story? Email eastofenglandnews@bbc.co.uk or WhatsApp 0800 169 1830
Related Topics
Related Internet Links
The BBC is not responsible for the content of external sites.